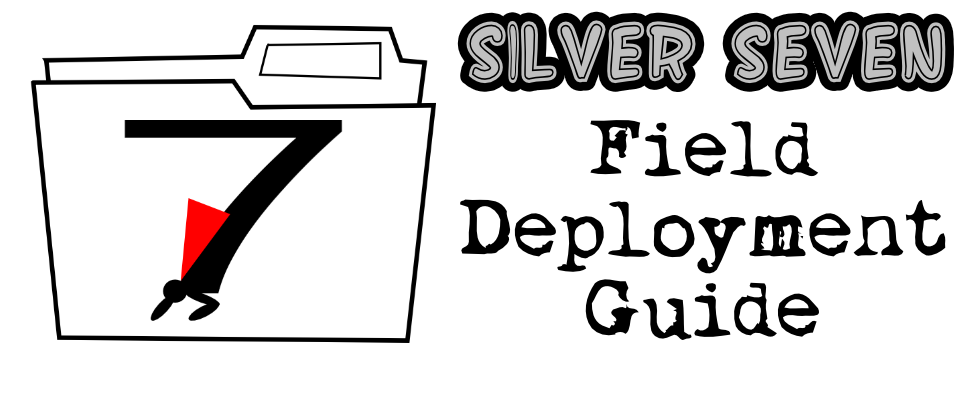 Silver Seven Field Deployment Guide
State of the supplement - January 3
---
The book has gotten some downloads, which is great! I hope people are finding it useful and interesting.
The holidays wrecked a lot of schedules, including those of the artists in this project. As a result, there's still ten images in the PDF that are placeholders, not the final art. I'll be releasing updates once those pieces come in.
This update properly credits all the artists who have worked on the project. It has been an absolute pleasure to work with everyone. If you are looking for art for your own stuff, I strongly recommend any or all of these great folks:
Yanahn (Kristen Chin) is a Malaysian TTRPG writer and illustrator living in the UK. Reachable via Twitter at @KristenChin8 while her portfolio of TTRPG character art and cover illustrations can be found at https://www.artstation.com/yanahn.
Kaz is a British Indian Artist who focuses on TTRPG Character Art and Illustrations in a heavily stylised, poppy and fashionable Art Style! They post their art on Twitter and Instagram while also streaming their art on Twitch with the handle @KazTheDM - https://linktr.ee/kazmatazzz
Victoria Blackmore (@OneDMtoAnother, www.onedmtoanother.com) is a writer and illustrator who enjoys creating evocative art and narratives for TTRPGs
Felis Lapis (Rose Fagan) is a fantasy and TTRPG artist based in the United States. She is reachable via felislapisart@gmail.com, and examples of her work can be found on Instagram (Instagram.com/FelisLapis) or via Twitter as @RoseF84568648
Jessi Olney (@ArtsyRobotz) is a Texas artist that adores creating illustrations that help bring a story to life. You can find more of her work here: https://linktr.ee/artsyrobotz
Mike Williams (also known as insomn) spends way too much time working on artwork for Mask-adjacent projects. You can see what they are up to on https://insomn14.tumblr.com/
HG (Hans Gromet) is a fantasy illustrator and writer from the Philippines. Reachable via Twitter and Instagram as @ehychgee while his portfolio of fantasy illustrations and character commissions can be found at https://www.artstation.com/ehychgee.
Daniele Cruz is a Brazilian Designer and Illustrator working on creative projects in Table-top Games, Video Games, and Animation areas. Reachable via Twitter at @dani_cruz_art while her Portfolio can be seen at https://www.instagram.com/danicruzart/.
Files
Field Deployment Guide - 72DPI Pages.pdf
1 MB
Jan 03, 2022
Field Deployment Guide - 72DPI Spreads.pdf
1 MB
Jan 03, 2022
Field Deployment Guide - 300DPI Pages.pdf
40 MB
Jan 03, 2022
Field Deployment Guide - 300DPI Spreads.pdf
40 MB
Jan 03, 2022
Get Silver Seven Field Deployment Guide